MegaPi - Born to Motion Control
SKU:

MB-10050
What is the MegaPi?
MegaPi - Born to Motion Control
The MegaPi is a microcontroller board based on ATmega2560.
It has an abundant amount of motor driver interfaces, it can control and combine different kinds of motors rapidly,
up to 10 servos and 8 DC motors/ 4 stepper motors simultaneously with a maximum output current of 10A.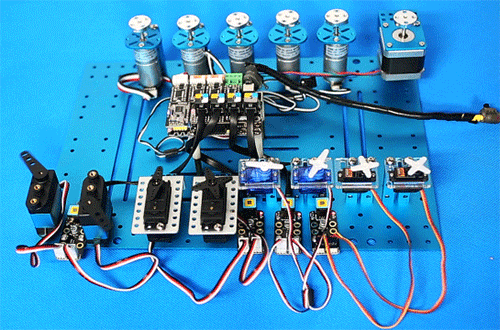 Features:
• Four motor driver interfaces for adding encoder motor driver and stepper motor driver, and thus to drive DC motors, encoder motors and stepper motors;
• One wireless communication interface for adding Bluetooth module or 2.4G module;
• Ten servo interfaces which enable the board to drive up to 10 servos at the same time;
• Two high-power MOS driver interface which is able to drive devices with a maximum current of 10A. Maximum output: DC 5V 3A;
• One Raspberry Pi switch interface (requires manual soldering) to realize 5V to 3.3V serial communication.
Tutorials:
Interfaces of the MegaPi and Other Plug-in Modules: