Welcome to V.O.C. Electronics.


Micro And Mini computers for you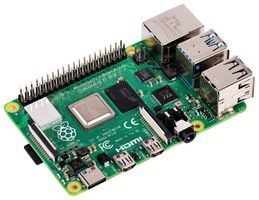 The new Raspberry Pi 4 B 8GB model.
Sites:
Check our Makerspace on Google+
Twitter: Hashtag: #VOC_Electronics
Dutch Google+ Page: Raspberry Pi NL
Note: Due to Brexit we no longer ship to GB until the new rules are clear and workable.
For inquiries on workshops please contact us on: info[at]voc-electronics.com
Raspberry Pi is a registered trademark of the Rapsberry Pi Foundation.
Pi Pico

Raspberry Pi Pico is the first product built on silicon designed in-house at Raspberry Pi ("Raspberry Silicon"). At its heart is RP2040, a Raspberry Pi-designed chip.

€ 4,95

Raspberry Pi 7" 800x480 DSI Touchscreen Display

The 7" Touchscreen Monitor for Raspberry Pi gives users the ability to create all-in-one, integrated projects such as tablets, infotainment systems and embedded projects. The 800 x 480 display connects via an adapter board which…

€ 72,95

Sold out

Sold out

mBot Ultimate 2.0

10-in-1 robot kitExamples that inspire | 160+ mechanical parts and modules | Mainboard MegaPi with powerful motivationCompatible with both Arduino and Raspberry Pi | Programming for all experience levels Makeblocks latest and…

€ 364,95

mBot Add-on Pack - Six-legged Robot

What is mBot six-legged robot?

mBot six-legged robot is a 3-in-1 expansion pack based on mBot.
You can construct "Beetle", "Mantis" and "Crazy Frog" with mBot and the parts inside the pack.
The mBot six-legged robot makes mBot…

€ 28,95

mBot-Blue v.1.1 (Bluetooth Version)

mBot is a low cost, easy-to-run robot kit for kids to get hands-on experience about graphical programming, electronics, robotics. It is an all-in-one solution for robotics learning and designed for STEM education.

The mBot…

€ 99,95

Raspberry Pi Compatible USB Gamepad

In between bouts of hacking and tinkering every Raspberry Pi programmer needs some rest and recreation! What better way to relax and unwind, than loading up your favorite 90's retro game and blasting some aliens pew pew!

These…

€ 12,50

USB to 5.5mm x 2.1mm Type M Barrel Power Cable - 0.9m

This USB to 5.5mm x 2.1mm barrel cable allows you to convert a USB power source to Type M barrel connector! It's fully compatible with our breadboard barrel jack, just plug it into one of our USB power supplies, or a computer USB…

€ 3,99

Sold out

XY-Plotter Robot Kit v2.0 (With electronics)

Description:

XY Plotter Kit can be assembled as a drawing robot,it moves a pen or other instruments to draw digital artwork on flat surface.On the basis of Makeblock platform, XY Plotter can be developed to a laser engraver or…

€ 299,95

Last one!

Ultimate Robot Kit-Blue

Description:Note: The package weight is about 5 kilograms.

This is a comprehensive robot kit for beginners to explore the robotic world or experts to build complex robots. It contains everything you need to construct your robot…

€ 399,95 € 299,95

Last ones!

mBot-Blue(Bluetooth Version)

mBot is a low cost, easy-to-run robot kit for kids to get hands-on experience about graphical programming, electronics, robotics. It is an all-in-one solution for robotics learning and designed for STEM education.

The mBot…

€ 84,95 € 59,95

ProtoCam kit

WHAT IS THE PROTOCAM?The ProtoCam is a prototyping board for the Raspberry Pi Model A and B, that offers a whole new way to prototype with your Raspberry Pi. It's designed to hold your Raspberry Pi Camera Module - surrounded by…

€ 8,95

Raspberry Pi B+

The upgraded Raspberry Pi B.

More USB ports, more GPIO, better power supply, four mounting holes, less sticky-out SD card! Yep, that's right, the fantastic engineers at Raspberry Pi HQ have blessed us with a new design. They've…

€ 24,95

Last ones!

BananaPi

The BananaPi.An improved Pi, the BananaPi from China.
Based on the Arm Cortex A20 CPU.
With 1GB of RAM and the MALI400 GPU, this miniboard can be used as a workstation without any problem.As of today we included a casing by…

€ 24,95

BeagleBone Black Rev C

The NEW Rev C

A blistering 1GHz processor, 512MB onboard DDR3 RAM, built in 2GB storage with pre-installed Linux operating system (no microSD card required!), and best of all, the addition of a MicroHDMI connector for audio/video…

€ 64,95

Altoids mints sized tin

Useful for larger electronic projects.

For example, to store your D.I.Y.S. battery recharger..

€ 3,65

Standard LCD 20x4 + extras - white on blue

Standard HD44780 LCDs are useful for creating standalone projects.

∙ 20 characters wide, 4 rows
∙ White text on blue background
∙ Connection port is 0.1" pitch, single row for easy breadboarding and wiring
∙ Single LED…

€ 7,95

Panavise Jr. - PV-201

The best mini-vise for working on smaller PCBs (2.875" or less in one dimension)! The jaws are strong plastic that wont damage the PCB and doesn`t mind if you hit it with the soldering iron by accident. Made in the USA.

∙ The…

€ 36,95

Adafruit Pi Case- Enclosure for Raspberry Pi Model A or B

The Adafruit Pi Case for Raspberry Pi Models A & B

Using this case is very easy and works with Raspberry Pi Model A, Model B rev 1 and Model B rev 2. Snap the Pi into the case bottom for a secure press-fit. If you want to poke…

€ 9,95 € 4,95